}} Harvest Moon: Tale of Two Towns - Bachelor Name Changes + Sprites
Well since a full list of the name changes in Harvest Moon: Tale of Two Towns was recently posted on www.fogu.com, I decided to list all of the changes here and inculde the character sprites as a reference.

I will only be listing the Bachelor's in this post. I will be making a seperate post after with the Bachelorette's and the other characters (main's will not be inculded since there is still no set default english name for them yet) after this post.
//Please note that I will also be voicing my own opinion on these names. You may feel free to do so as well, but please don't be rude about it.\
——————[Bachelors]———————-
  Ash (Japanese) = Ash (English)


   Michael (Japanese) = Mikhail (English - Russian form of Michael)
  Kiriku (Japanese) = Kana (English)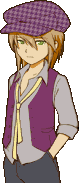 Kamil (Japanese) = Cam (English - Short for Cameron)
     Chihiro (Japanese) = Hiro (English)

——————[Opinions]———————-

Overall with the Bachelor's I have no real problem with them.

I guess my only major beef is Kiriku now being 'Kana'. Though after I did some research I found out 'Kana' is actually generally a boys name in Japan, and not a females like it sounds. xD; It will still take me awhile to get used to it though.

I like Chihiro's name and Ash stayed the same, so no complains from me here about those two.

I'm not sure where I am with Kamil being called 'Cam' now though. Part of me expected it to be changed to something similar, but 'Cam' sounds to short for me. I think I would have perfered the longer version of his english name which would be 'Cameron'. xD; Overall though his isn't to bad. It just sounds to short.